 COMMENTS ON THE MAGIC MOD PERFORMING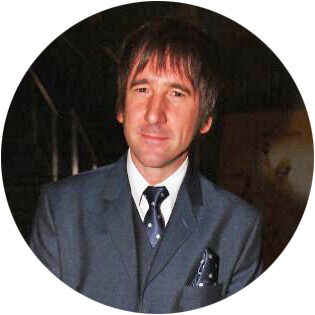 Dean (Deano) Mumford
Regency and piano player for The Rifles and Suggs from Madness
From the second The Magic Mod walks on the stage, he owns it! Immediately engaging with the audience with a rock'n'roll swagger! Booming confidence!  Blasting through an incredible set of tricks that leave you completely baffled! From amazing one handed shuffles and cards flying through the air, to seem-less sleight of hand!
Mind reading trickery along with entertaining stories! The Magic Mod smashes it every time! The devil himself at work!  Wherever The Magic Mod is performing, it will always be … 'A Town Called Modgic'.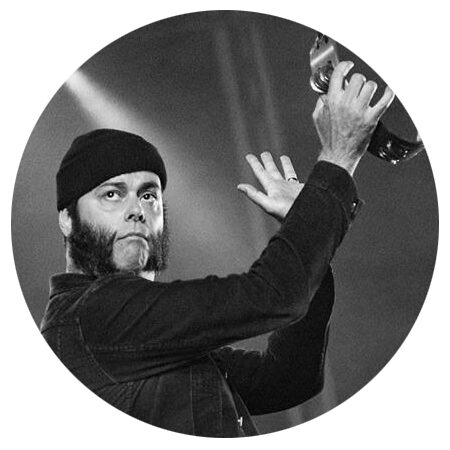 Joel Gion, The Brian Jonestown Massacre
Our opening act for the entire UK leg of the tour is The Magic Mod, a mod magician who is traveling with us on the bus. A master at card tricks and illusion, his addition to the stage not only gives the evening's proceedings an Ed Sullivan Show variety program-type vibe, but him taking on a crowd that is only here for music is something to see in itself. The bravery to contend with the rowdy 'punters' and win them over single-sleight-of-handedly takes nerve, but when you're good and you know who you are its just another night.
Gig Review
Barrowlands, Glasgow – February 14th 2023
Supporting The Brian Jonestown Massacre
I didn't have any expectations for the first act. "They usually don't even have a support!", a friend sulked to us in a chance meeting. I was waiting for some Paul Weller wannabees to grace the stage to give us their best impression of, The Jam's greatest hits but with this being the Barrowlands, I should have known there'd be a few surprises along the way. "Is that … He's a fucking magician!", I heard someone say in disbelief and indeed it was! Adorned in Fred Perry and sporting a bold as brass Cockney accent, yer man dealt with a crowd, that wasn't always hospitable to tricks, with grace, charm and wit.
Acting like Del Boy giving a sales pitch down the market, (which was very appropriate for The Barras), 'Magic Mod', made bottles disappear, constructed an endless deck out of 6 cards and for his final trick, even picked out a person from the crowd's seven of clubs, out of a live bear trap! A modest man (pardon the pun), 'Magic Mod', warmed the crowd with stories of how he became interested in magic and even dedicated one of his tricks involving a colouring book, to his son. 'Magic Mod', expressed his gratitude to the people watching him and always let the crowd know what an honour it was to be here and by the end of the act, having entertained the crowd with jokes, magic and humility, even the drunks couldn't find it in them to give anything but cheers and applause.
CREDIT: DISCOVERYMUSICSCOTLAND.COM
TWITTER COMMENTS ON THE BJM TOUR SUPPORT
Badly Drawn Boy
Retweeted by @TaylorMod, February 16th 2023
Fantastic Ben ! And well done on the tour. Takes some courage to do what you do X

Dom Gourlay
Retweeted by @TaylorMod, February 16th 2023
Why not? I'd rather watch someone like yourself breaking normal conventions than some dull as dishwater rehash of every indie band from the past 4 decades playing songs no one will remember the minute they leave the stage. Carry on doing what you're doing. It's great!

The Theme Scene
Retweeted by The Magic Mod, February 16th 2023
@TaylorMod is a headliner in their own right (or soon will be). Something a bit different but what would you expect from BJM! @soundcarriers are fabulous too if magic ain't your thing.
Gig Review
Princess Pavilions, Falmouth – 28th January 2023
Supporting The Brian Jonestown Massacre
Breaking the norm of support acts, we were treated to The Magic Mod a rock n' roll magician, aka Ben Taylor. This was quite a welcome change to the usual support you'd expect from BJM and went down really well with the Falmouth audience.
CREDIT: CLUNKMAG.COM
TWITTER COMMENTS ABOUT MAGIC MOD MONDAYS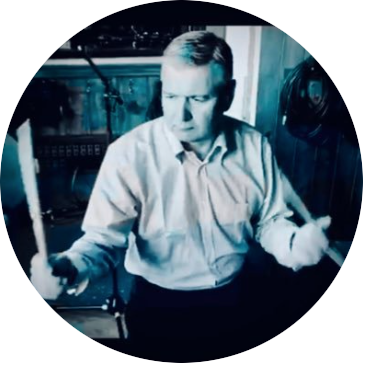 Steve White
The Style Council
Posted on Twitter,
March 3rd 2023
Of course. I am an unashamed fan of the skill of a good magician, not dissimilar to that a good musician. Magic Mod is up there with the best and doing it alway in style.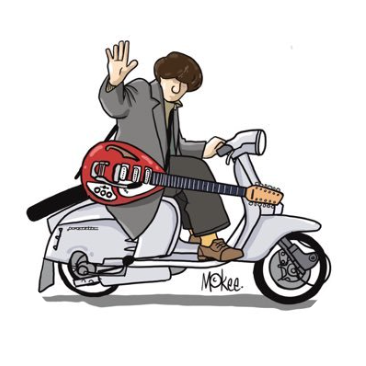 Will Sergeant
Echo & the Bunnymen
Posted on Twitter,
March 13th 2023
You're in league with the devil.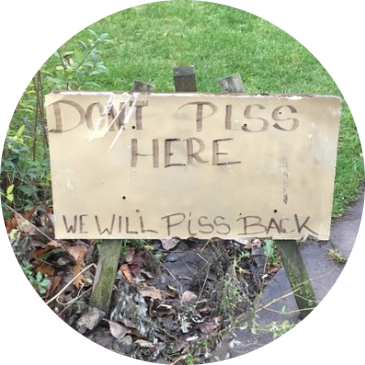 Rick Witter
Shed Seven
Posted on Twitter,
March 13th 2023
Brailley brailley good Magic Mod man….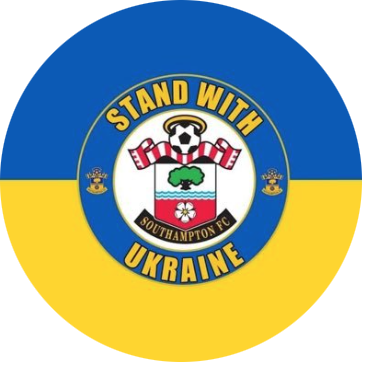 Ian Lawler
Posted on Twitter,
February 28th 2023
Absolutely love them, I try so hard to work out how you do it but at the end of the day I don't have a clue.
Paul Jones
Posted on Twitter,
February 28th 2023
Always look forward to Magic Mod Monday. Totally mesmerised every week. The future is looking bright. All the best Ben.
JMP
Posted on Twitter,
February 28th 2023
Top draw. Watch every Monday. Never fails to disappoint. Can't wait to catch you live (hopefully at a gig) one day.
Gig Review
SWX, Bristol – 29th January 2023
Supporting The Brian Jonestown Massacre
As SWX begins to swell toward its 1100 capacity crowd, it isn't at every gig that one gets to witness what looks like an extra from Quadrophenia busting out magic tricks in support on the evening's main act. Thus, Ben Taylor AKA the Magic Mod is bemusing the audience, not only by his mere presence on stage, but also by his adept hand with a deck of cards. The nine musicians who comprise The Brian Jonestown Massacre then take to the stage, and leader Anton Newcombe acknowledges the winners of two tickets to tonight's show via an Oxfam prize draw. It's all rather quant; magicians and raffles feel a far cry from Newcombe's typecast role as former junkie tyrant and the band's mythos of rock and roll chaos.
CREDIT: THEFIXMAGAZINE.COM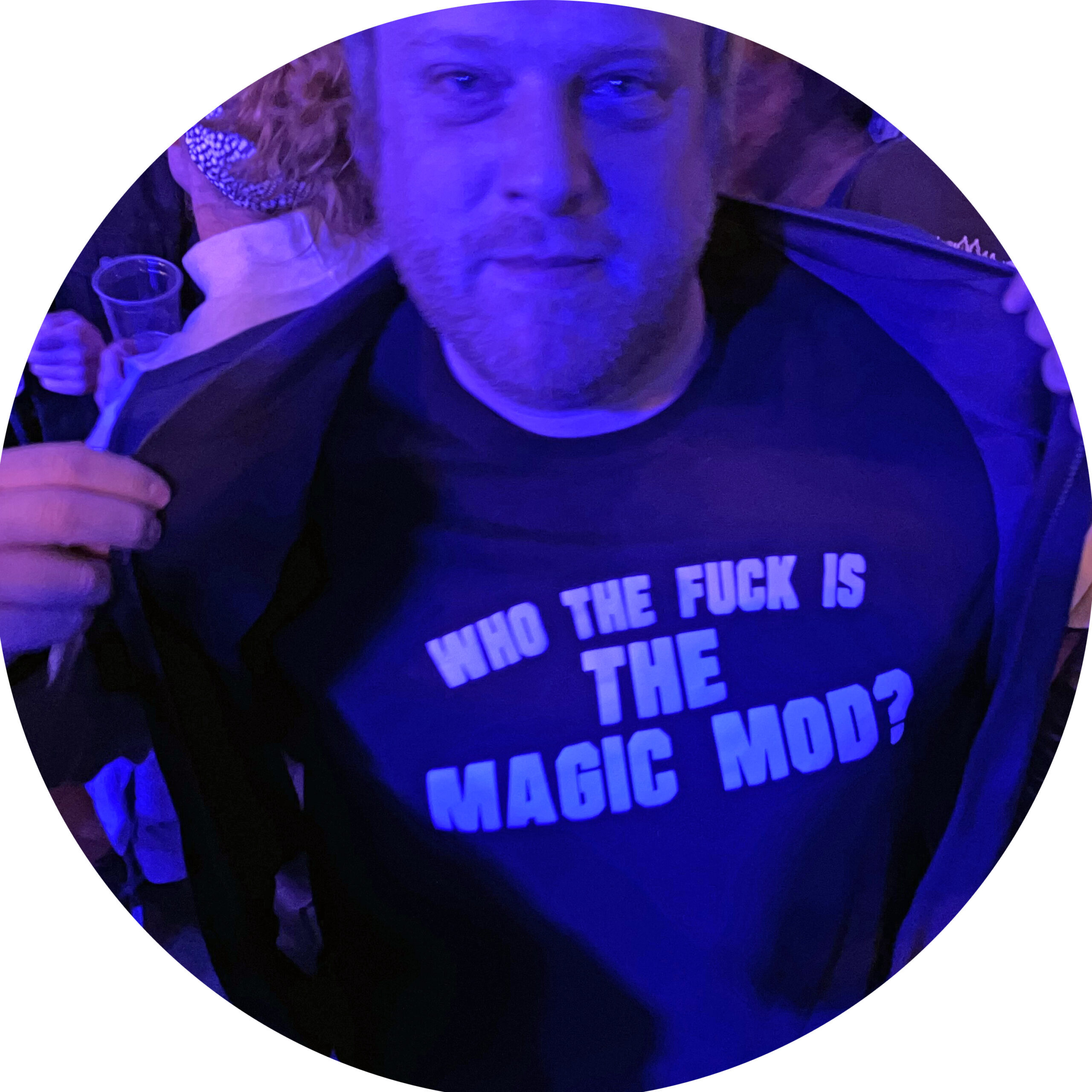 Brett Bithel
 Watched The Magic Mod support BJM after watching loads of Magic Mod Mondays and he defiantly didn't disappoint stylish funny and Modgic. Pretty sure The Magic Mod will be headlining his own tour very soon. To be someone must be a wonderful thing, a famous footballer, a rock singer, or a magician?
Gig Review
Stylus, Leeds – February 15th 2023
Supporting The Brian Jonestown Massacre
Before the band took to the stage for a whopping two-hour set, an unusual choice of opening act commanded the room; the magician The Magic Mod. Having previously opened for The Libertines and Paul Weller, the magic man, real name Ben Taylor, is no stranger to supporting well-respected musical icons. Taylor captivated the audience with his wit and charm, inviting someone on stage to be his assistant. Despite a fair few bewildered faces in the crowd, Taylor's performance seemed to go down well, and he received plenty of cheers as he exited the stage.
CREDIT: FAROUTMAGAZINE.CO.UK
Shiiine On Weekender 2022, 14th November 2022
Dermo (Northside)
I'm sat there, then BANG, the main man, Mr Modgic himself, is on stage. Cool as fuck and taking the piss from the off. I like his presence straight away. He's confident but not annoying. Knows how to work the crowd, and is a master of his trade. The tricks are tricky and magic is magical. The crowd are on it and in it. It's all over too quickly. Get back on stage Mr Modgic! This IS the Modern World x
email: themagicmod@gmail.com